Computer vision applications for manufacturing
Ensure business continuity, digitize operations, and increase efficiency across the manufacturing value chain.
Preferred by today's innovation leaders
All-in-one solution to build and operate computer vision applications without code
AI vision manufacturing use cases
Viso Suite lets you create and scale real-time computer vision and deep learning systems. Increase operational efficiency, safety and quality with computer vision applications.​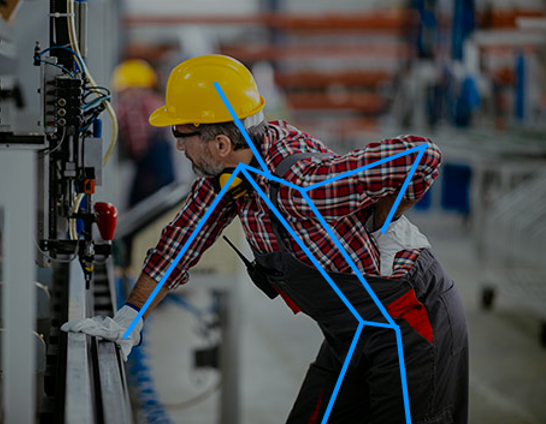 AI-based ergonomic risk analysis using cameras to detect the human posture of employees.
Read the report about the best manufacturing computer vision applications today.
Game-changing advantages of Viso Suite
The no-code computer vision platform makes computer vision and deep learning dramatically easier and faster.
Skip writing code from scratch and use visual no-code tools. Build, deploy and debug apps much faster.
40% lower operating costs
Massive time savings through automation and low-code. No need to host infrastructure. Built-in integrations to re-use any camera.
Data privacy and security
Use on-device deep learning, process data in in real-time without sending it to the cloud. Manage access to your data.
Automate anything that people can see - with Viso technology
Viso Suite is the most complete no-code computer vision platform. Build, deliver and operate applications to bring AI vision everywhere it needs to go. Become a computer vision enabled enterprise with the Viso Platform.
Proven results in weeks, not years
Get results from day one and accelerate time to value for all your applications.
Application Deployment
in Production