All-in-one platform to build computer vision 10x faster
The no-code platform Viso Suite™ is the leading all-in-one solution to develop, deploy, and operate computer vision applications.
viso.ai closes $9.2m seed round led by Accel
Read how we're driving the next wave of computer vision adoption!
The no-code computer vision platform
Build and deploy better computer vision applications faster by abstracting and automating the entire lifecycle with Viso Suite, the all-in-one enterprise vision platform.​
Everything you need for computer vision
Collect data for computer vision annotation with Viso Suite. Use automated collection capabilities to gather high quality training data. Control and secure all data collection. Enable continuous data collection to further improve your AI models.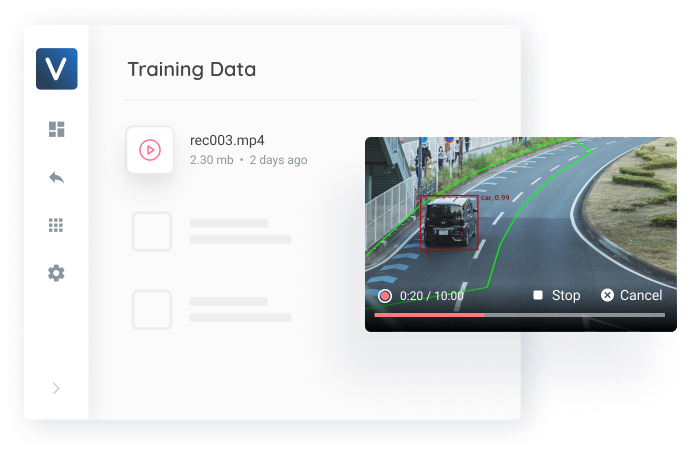 Annotate image and video data with Viso Suite. Bring teams together to create high-quality datasets using a complete palette of automated and semi-automated labeling tools. Your data never leaves your workspace, keep everything safe and stay in control.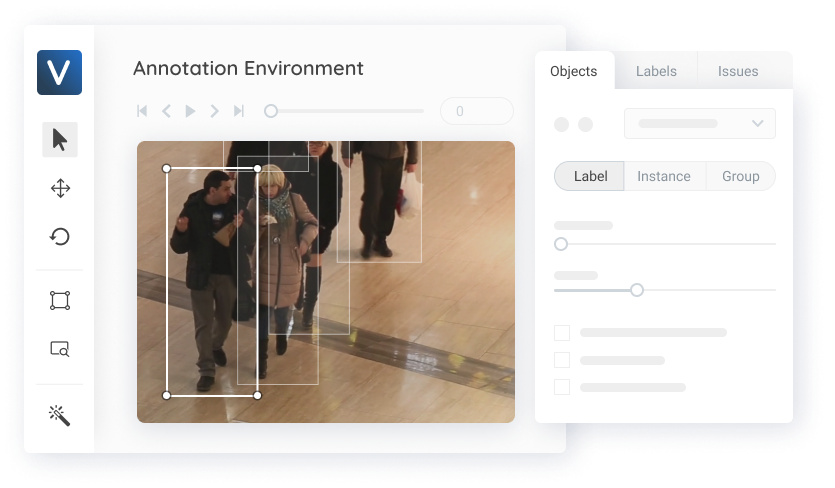 Manage AI models of all frameworks in one place. Make them available to be used in applications. Import AI models by choosing from pre-trained deep learning models. Train custom AI models in modular environments. Continuously improve your AI models.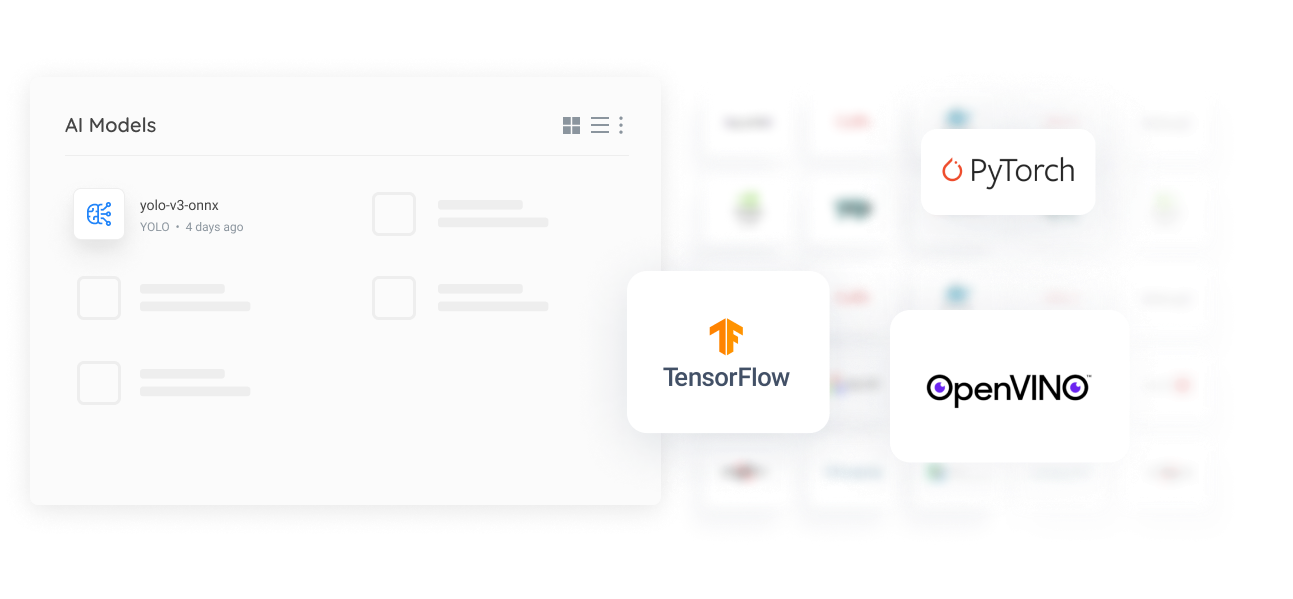 Build high-performance computer vision pipelines with an intuitive no-code editor. Wire together modular building blocks that represent cameras, AI models, image processing functions, and processing hardware. Integrate your existing systems and manage versions. Future-proof your computer vision applications.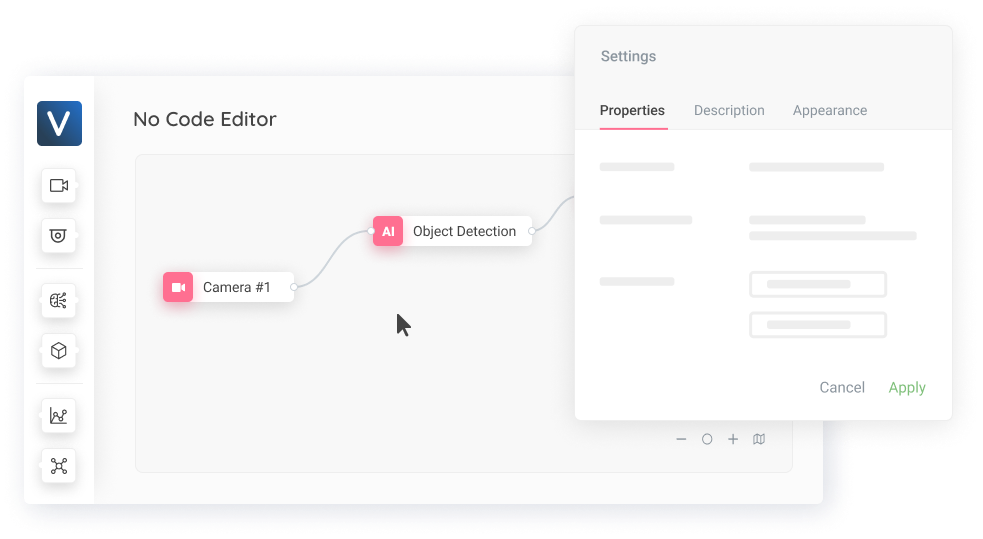 Deploy computer vision applications at scale. Viso Suite provides a complete device management. Enroll and manage a fleet of devices safely, without coding or manual installation. Release applications with a fully automated deployment manager to multiple environments. Now you can ensure your applications scale.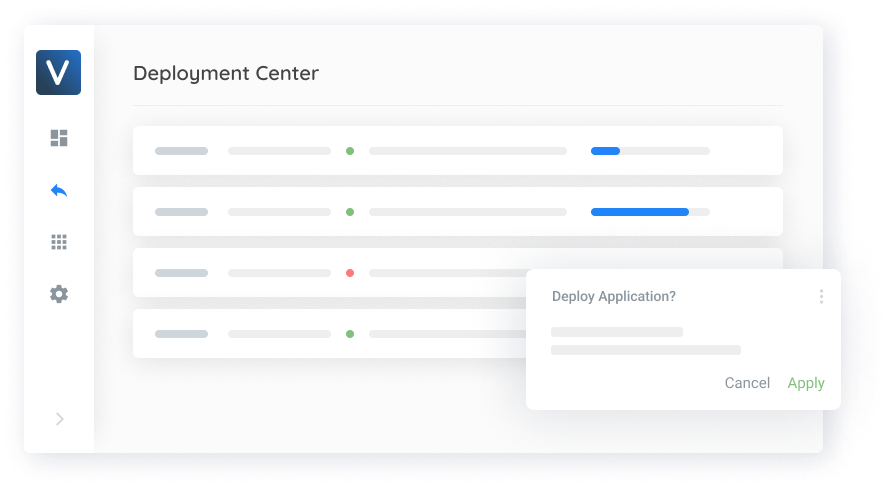 Connect deployed applications and devices. Process all video streams on-device with private Edge AI processing, and avoid sending video data to the Cloud. Viso Suite provides robust, scalable and low-latency Edge-Cloud connectivity to operate computer vision at IoT scale.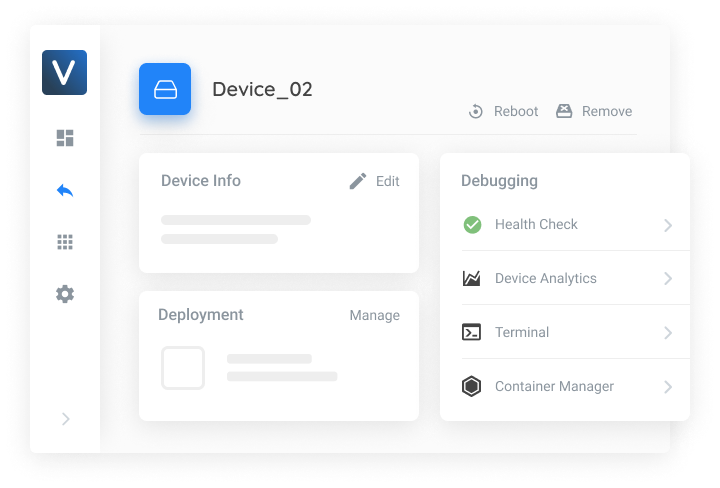 Monitor events and metrics in the cloud. Viso Suite provides real-time analytics with time-series databases. Monitor detailed hardware metrics at device level. Build custom BI dashboards and reports with ready-made charts. Explore and drill-down data, and build custom queries. Use data connectors to integrate your BI systems.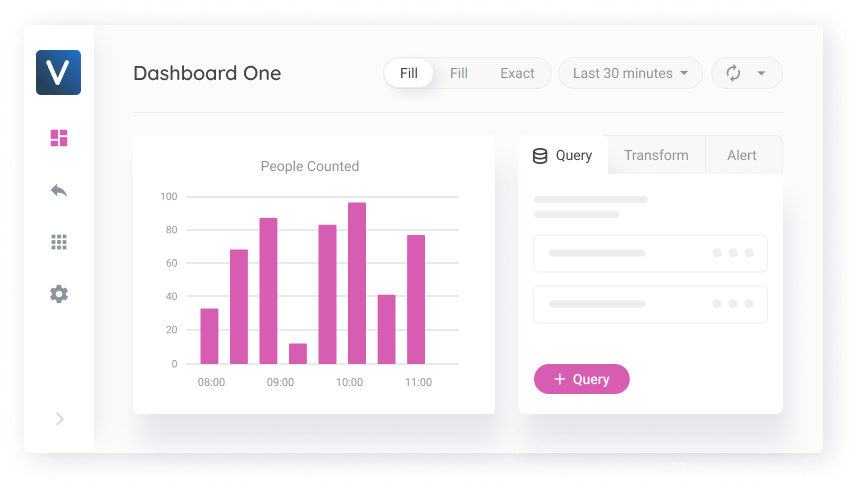 Maintain all applications and ensure continuous delivery at scale. Implement a fast and agile development, update, and upkeep strategy. Detect issues early with capable diagnosis tools, system alerts, and automated health scans. Resolve issues with tools for remote troubleshooting and disaster recovery.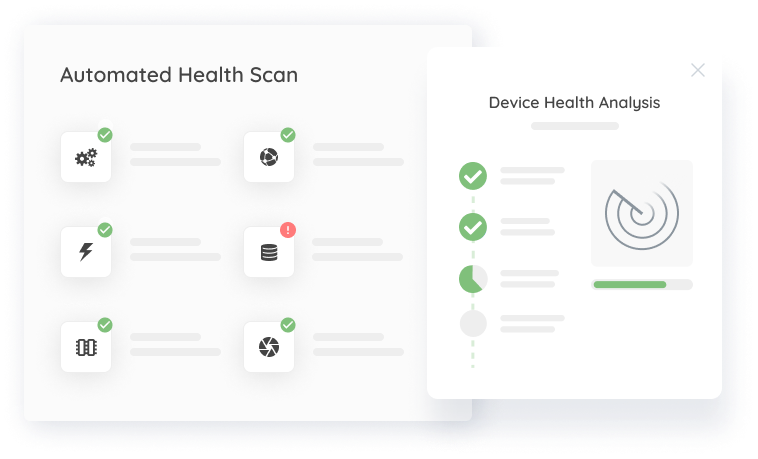 Viso Suite provides enterprise-grade security for the entire computer vision lifecycle. Unify user authorization and authentication across all systems. Protect your AI models and applications from theft and loss. Run automated dependency and vulnerability scans. Enforce highest security encryption and lock down Edge endpoints.
Industries deliver AI through Viso
Explore real-world computer vision applications that you can build, deploy, and operate with Viso Suite.

Analog Instruments Reading
Computer Vision application to read analog dials such as gauges, digital displays, and warning light colors using cameras.

Product detection uses deep learning to detect different product types automatically.

Automated detection of potholes with AI vision
Automatic Number Plate Recognition
Automated Number Plate Recognition to identify vehicles in real-time.
AI-based ergonomic risk analysis using cameras to detect the human posture of employees.
Use cameras for automated object counting with deep learning.
Why Enterprise, Fortune 500 and Governmental
Organizations choose Viso Suite
See how we've helped hundreds of organizations successfully implement AI vision.
"We have built Computer Vision Applications using Viso Suite to meet all the specific requirements we need. While deploying, maintaining, and updating, it allows us to deliver business value faster and easier."
Carlos Arredondo
AI Lab Lead, PwC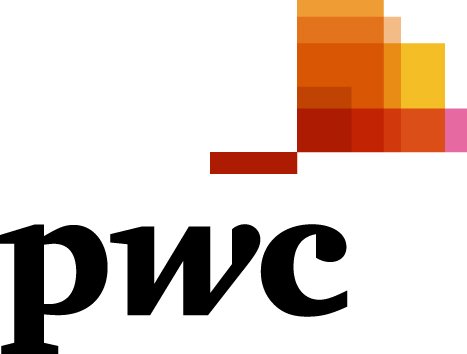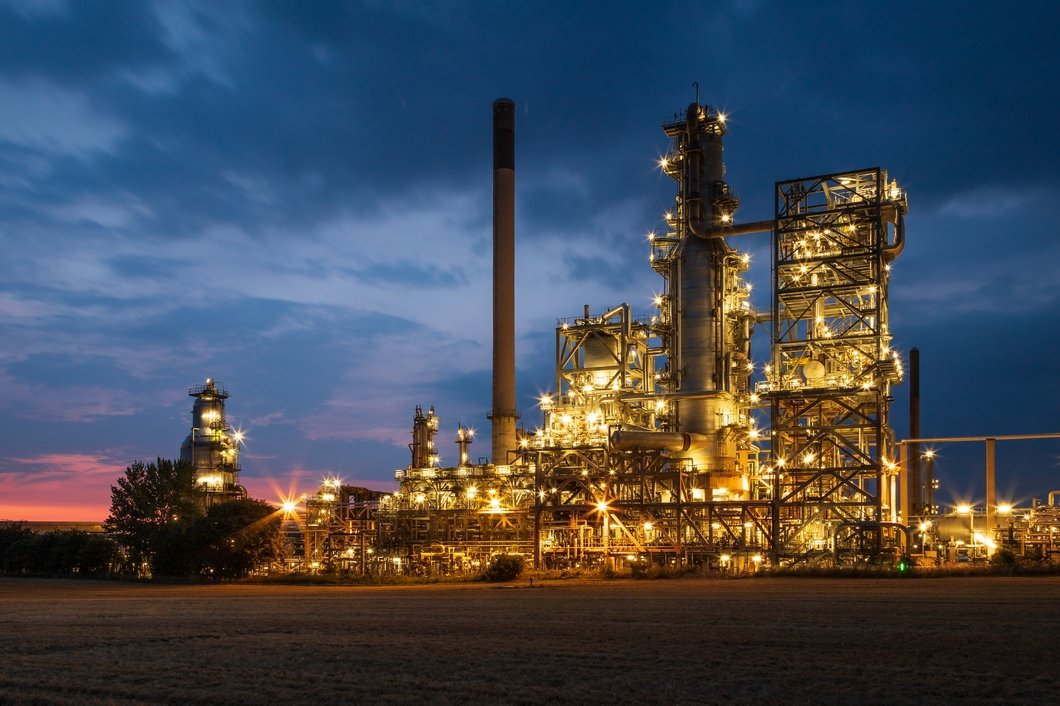 "Viso Suite allows to take video streams, analyze them in a deep-learning model and draw insights in real-time at the edge, which results in real business impact."​
Arkadiusz Hruszowiec
Global Sales Director Robotics, Intel Inc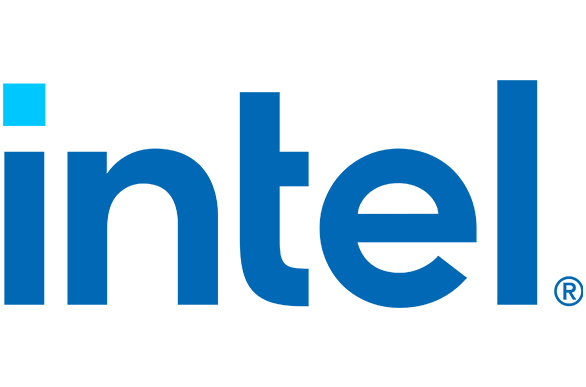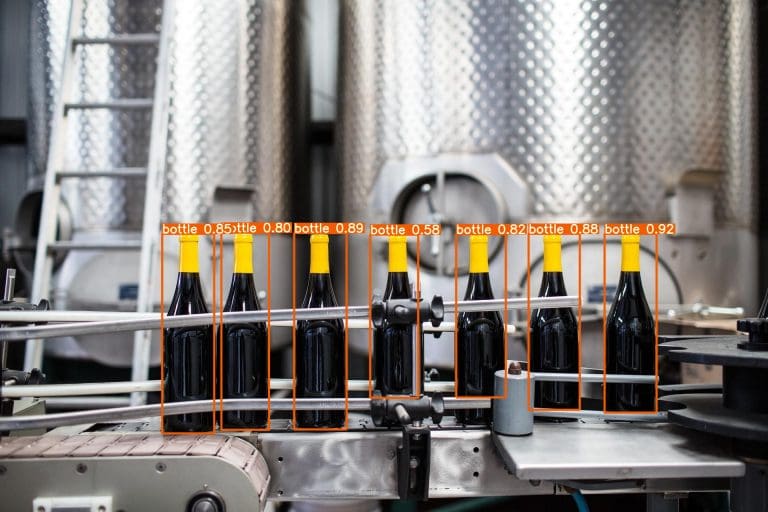 "Usually, it's a hassle to get the image/video, store it, run the deep learning model and use the data - resulting in a repository of code that may not be reusable. The integrated, visual tools of Viso Suite make it much easier to create, deploy and maintain applications - saving a lot of time."​
Mihai Cvasnievschi
Lead AI Development, Stefanini Group

"We needed an end-to-end solution able to meet strict privacy requirements. With Viso Suite, we can build our computer vision applications and put them to use within 2 weeks. We can integrate existing camera and software systems - independent of the provider or platform."​
Ramon Göldi
Head Smart City, Schaffhausen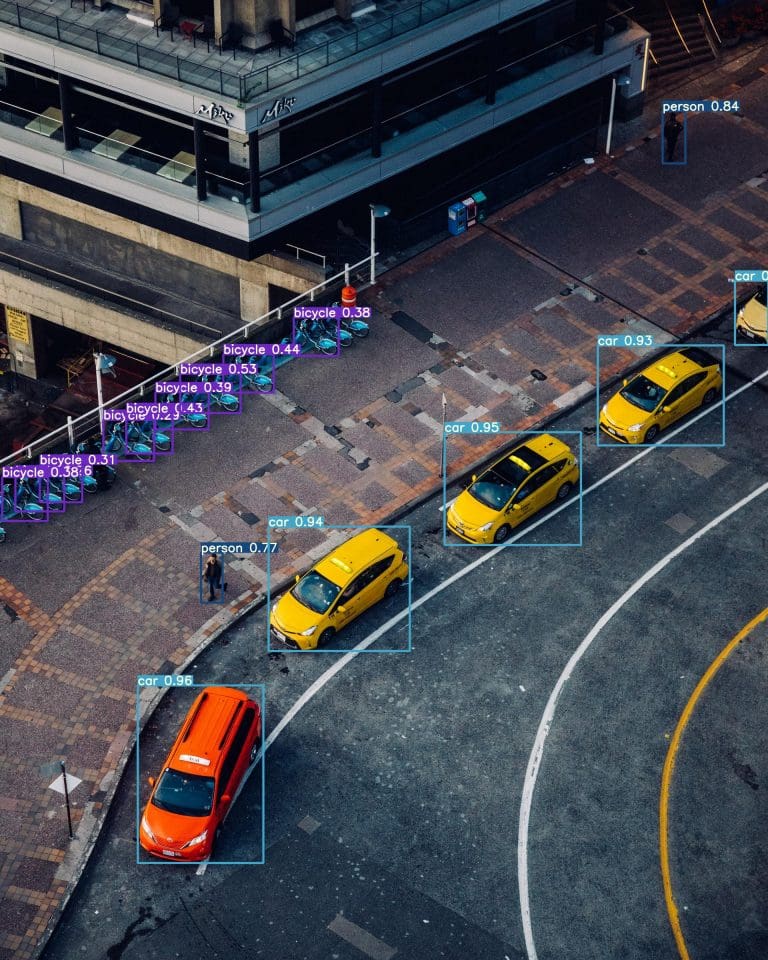 "We built and deployed a privacy-preserving AI vision application for live people counting in public places. Viso Suite lets us integrate our camera and web systems without any additional software. It's very nice if you just want to get it up and running."​
Jóhan Dam-Davidsen
City Technology, Kommuneqarfik Sermersooq
"Viso Suite is a modern solution with a consolidated view of the AI application lifecycle, and it provides us with the desired platform for a coherent implementation of our computer vision applications that can run anywhere, at the Edge and in the Cloud."​
Mohamed Tawfeeq
Senior Technology Manager, BTC Networks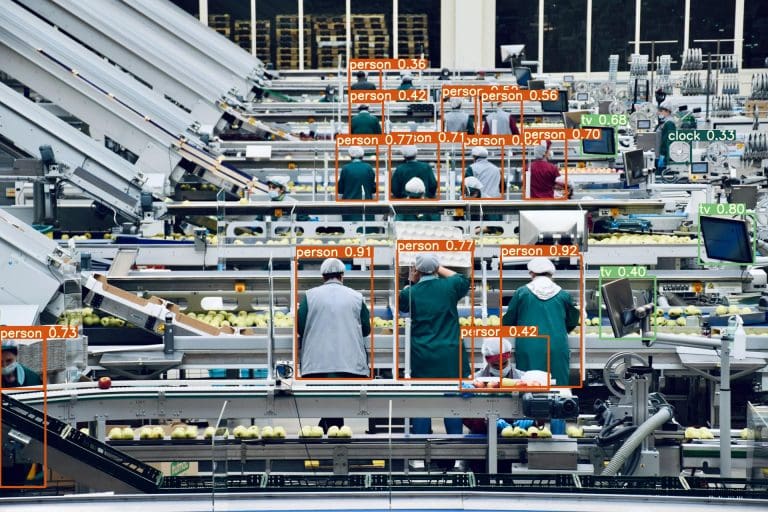 "Viso Suite provided a way to build and roll out a large-scale custom vision system to production, achieving significant cost savings."
Thomas J. Ernst
Fleet Manager, Swiss Post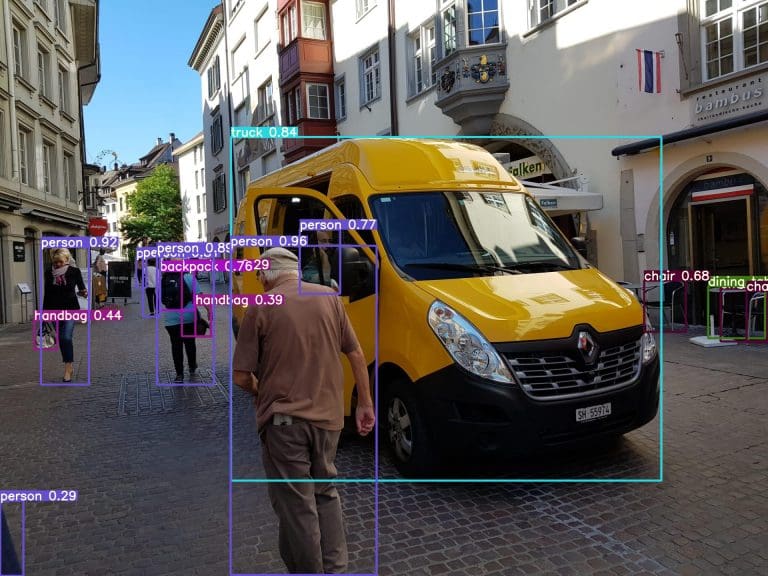 "If you want to speed up the delivery cycle of computer vision, you need to simplify your ecosystem. And we've been doing that with Viso Suite along the way. It's critical for developers to have one single point of contact and one simple, no-code interface to increase the speed of delivery."
Francesco Traversa
Data Scientist, A2A Smart City

Unified no-code computer vision solution
Integrate and accelerate the entire lifecycle of real-world computer vision. Use industry-leading Edge AI and no-code infrastructure to build better applications that scale.
Teams can collaborate to build, deploy, and operate all their computer vision applications in one place.
Collect training data, annotate the data, and train your ML models. Use +55 of the best pre-trained models in your apps.
Build high-performance computer vision with automated Edge AI technology, and scale cost-efficient, robust systems.
Cross-platform integration
Open and extensible at every level: AI model, cameras, hardware, applications. Integrate any data source or service.
Using Viso Suite, teams can collaborate and use no-code and low-code tools across the full computer vision lifecycle.
Reduce the sprawl of point tools, drive efficiency and agility. Decrease security risks, and automate coding work.
Move from prototype to production. Operate large-scale deployments with thousands of cameras. Use automated diagnosis and remote troubleshooting.
Unified enterprise security model with Viso Zero Trust, advanced authentication, encryption, automated dependency and health scans – from Cloud to Edge.
Build GDPR compliant computer vision, avoid storing or transferring any video data. Restrict how your teams can access systems and data.
Learn about the most powerful computer vision architecture to build, deploy and scale applications in one place, and with no-code automation.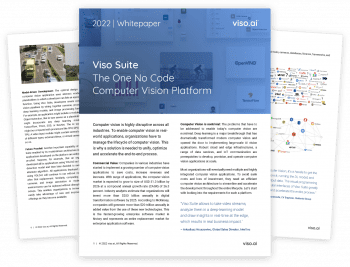 Build your own real-world applications
Viso Suite dramatically simplifies computer vision for organizations. Teams can use industry-leading image recognition features and AI vision-based people or object detection, image segmentation, keypoint detection, pose estimation, face recognition, and analysis. Viso Suite is a true development platform that is flexible, extensible, and built to meet enterprise requirements. Build applications by integrating camera streams with the most powerful deep learning algorithms. Collect annotate your own data, train AI models or choose from over 55 pre-trained AI models. Build all the AI vision applications your organization needs – dramatically faster.