What Is Object Counting With Computer Vision?
Object counting with computer vision is a process of using computer algorithms to automatically detect and count the number of objects in an image or video stream.
It uses machine learning models for object detection to identify standard or custom-trained objects. Once the objects are detected, the computer vision application can count them and provide data on the number and location of the objects.
Object counting applications are important in manufacturing, retail, and logistics to recognize and count products, pieces, and boxes produced.
Features of Object Counting
Industrial machine vision systems are increasingly being replaced by more flexible and cost-efficient deep learning methods. To count specific objects like metal bars, sheets, boxes, parts, and so on, a custom ML model has to be trained on collected and annotated data.
Automated Object Detection: The vision system can detect and localize multiple objects in video streams using advanced deep learning algorithms.
Object Classification: The ability to categorize detected objects and separate them into different types or variants.
Accurate counting: AI counting can accurately count the number of objects in specific areas, such as room sections, shelves, conveyor belts, and others.
Real-time processing: AI software can process images or video streams in real-time, enabling the system to provide up-to-date and accurate data.
Customizable: Custom ML models can be trained on collected image and video data to count specific objects, such as metal bars, sheets, boxes, parts, etc.
Scalable: AI vision systems are highly scalable and can handle large amounts of data and integrate with other technologies and systems.
Private AI Vision: Privacy-preserving edge AI enables real-time image processing on-device to avoid sending videos to the cloud (sensitive data).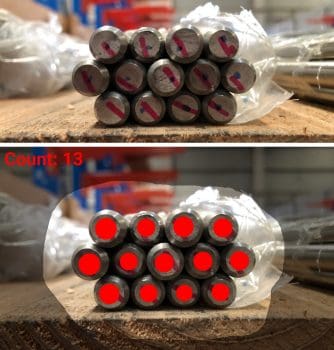 Value of Real-Time Object Counting
Using AI and cameras to count objects provides a highly scalable and effective approach to automate production workflows, reduce human errors and prevent business interruptions.
Automate manual work: Fully automate the process of continuous object counting. A system that operates 24/7 replaces 3 FTEs per camera stream (three shifts).
Improves Efficiency: Real-time object counting enables companies to track their inventory accurately, avoid overstocking, and streamline their production processes. It helps companies to identify bottlenecks and take corrective measures quickly, leading to improved efficiency and productivity.
Enhances Quality Control: Real-time object counting helps to ensure that the correct number of products is delivered to customers. It also enables companies to identify and correct defects in products, reducing the risk of production interruptions or penalties.
Better Decision Making: Real-time object counting provides accurate and timely data that can be used to make informed decisions. It helps companies to identify trends, optimize their operations, and improve customer service.
Saves Time and Cost: Real-time object counting automates the counting process, eliminating the need for manual counting, which is time-consuming and prone to errors. This reduces labor costs and frees up employees to focus on more value-added tasks.
AI camera solutions are contactless and have a small footprint. Camera-based counting provides a powerful AI method that can be easily implemented without heavy modifications across multiple factories and production lines.