Computer vision in retail is a growing field. More and more companies operating in the retail and e-commerce sectors are now using computer vision solutions to better meet customer needs and manage inventory. Evidently, the potential AI applications and computer vision are revolutionizing the retail industry by allowing retailers to gather valuable insights, streamline operations, and improve the customer experience.
In this article, we'll explore the various ways that Computer Vision is being used in retail, including brick-and-mortar retail, wholesale, fashion retail, grocery retail, beauty and personal care retail, electronics retail, and more. Whether you're a retailer or a customer, it's clear that the future of retail is closely tied to the advancements in Computer Vision technology.
About us: Viso.ai provides the leading end-to-end Computer Vision Platform Viso Suite. Retailers use our technology to automate how they build, deliver and scale their computer vision applications. Get a demo for your company.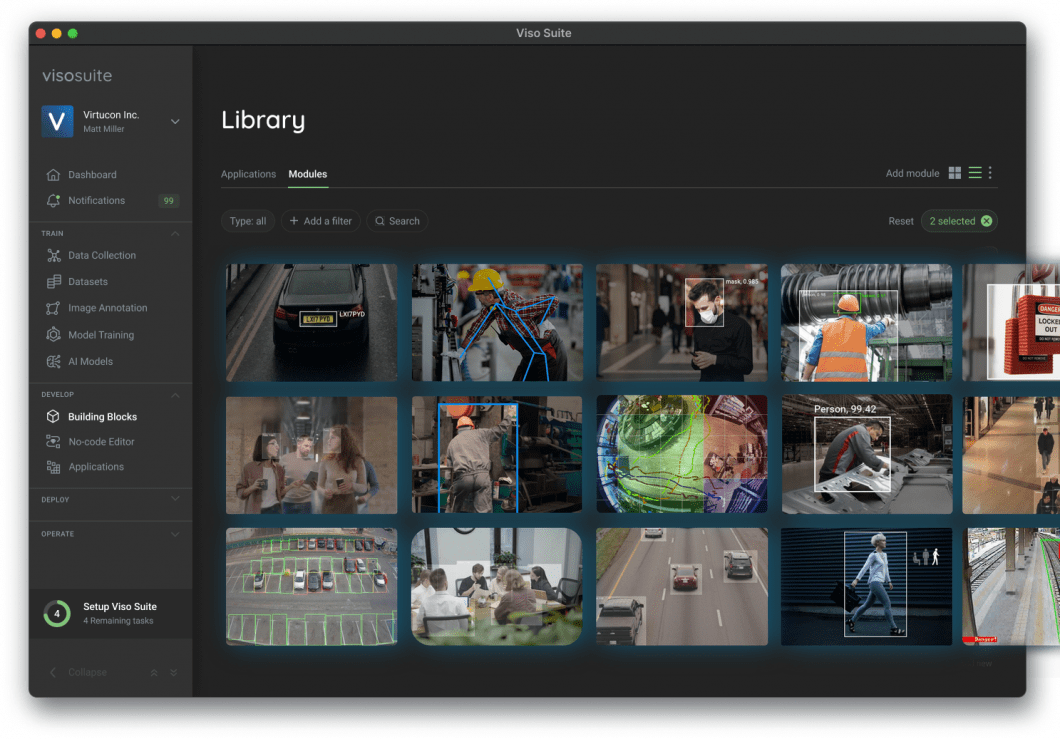 What is Computer Vision
Computer Vision is a field of artificial intelligence (AI) that is focused on enabling computers to interpret and understand visual information, just as humans do. This technology is used in various applications to analyze images and videos and draw conclusions based on the data they contain.
In the retail industry, Computer Vision is being leveraged in many different ways. Firstly, it is used for object detection and recognition in stores. This helps retailers keep track of inventory levels, detect when items are out of stock, and automate the restocking process.
If you are looking for a full technology overview, check out our AI technology guide about Visual AI in Retail.
End-to-End AI Vision Applications in Retail
From image optimization to customer behavior analysis, from shelf space management to in-store analysis – retail AI and retail vision can improve the shopping experience for people, help to save costs, and increase revenues. When used at scale, AI vision technology can provide competitive advantages and play an essential part in the digitalization strategy of retailers.
In the following, we will walk you through some of the most popular real-life applications of computer vision in retail.
The most popular Computer Vision Applications in Retail
Application #1: Retail Heat Maps
Application #2: Cashierless Stores
Application #3: Image Recognition in Retail
Application #4: Virtual Mirrors and Recommendation Engines
Application #5: Footfall Analysis, Pass-By Traffic, and Interactions
Application #6: In-Store Advertisement
Application #7: Inventory Management
Application #8: Computer Vision AI-Based Loss Prevention
Application #9: Crowd Analysis
Application #10: Stocking and Planograms
1. Retail Heat Maps
Retail heat maps can help understand the functionality of the stores and identify customer behavior in them. But what is a heat map? In simple terms, a heat map is just a technical way of saying a shaded matrix where single values in a matrix are displayed as colors.
Retail heat map technology leverages real-time imaging to detect movements and allocate colors related to traffic volume to each floor area. For example, retailers such as Sephora, Samsonite, and ATU Duty-Free leverage heat maps in their stores to understand the activities of their customers, test new merchandising strategies, and experiment with layouts. With so many retail companies now using this technology and a broad range of functions in retail, it's easy to understand why this technology has gained so much industry attention these days.
2. Cashierless Stores
Self-checkout or cashier-less stores have been gaining more popularity in recent years. It uses computer vision and deep learning technologies to automatically detect the prices and calculate the bill of products a shopper picks.
3. Image Recognition in Retail
Much of the hype around image recognition in shopping has centered on augmented reality (AR) and marketing analytics. In any case, there is a lot of untapped potential in utilizing image recognition to add services to what customers see in physical stores.
Shoppers are expected to begin using image recognition technology full-fledged within the next few years to help improve in-store customer service and potentially display products by enabling customers to scan a product with an app and pull up current inventory. Such an app would also suggest similar t-shirts or products and encourage customers to buy a product and have it brought directly to them by a sales executive.
By enhancing the in-store experience, this technology can help retailers retain sales from purchasers who compare prices online through their smartphones.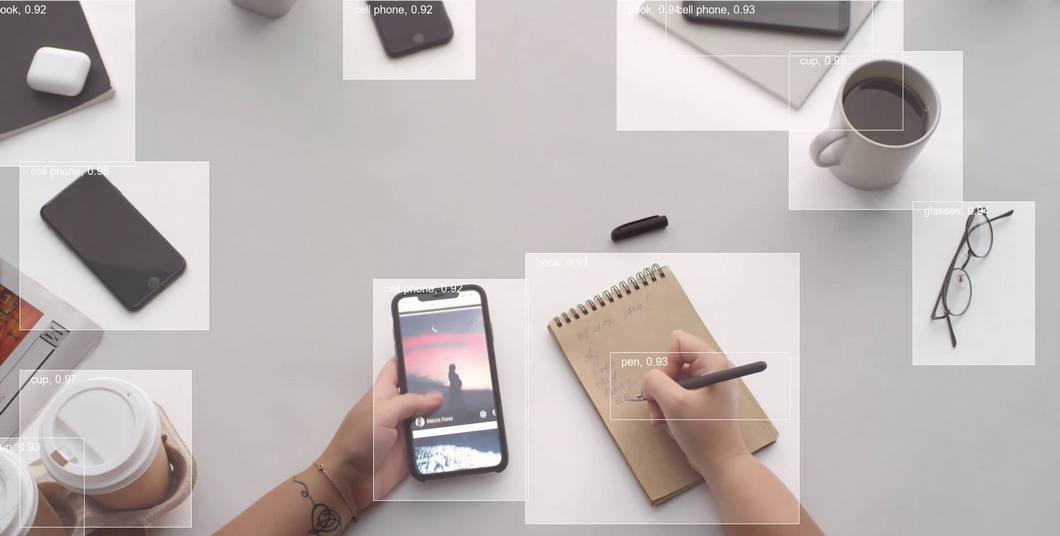 4. Virtual Mirrors and Recommendation Engines
Virtual mirrors may become the central focus of personalization and customer experience enhancement in retail. It is basically a traditional mirror with a display behind the glass. Powered with computer vision cameras and AR, these mirrors can display a broad range of contextual information, which, in turn, helps buyers connect with the brand better.
For example, as a major effort of retail market services, FindMe provides an in-store virtual fitting room solution that "Completes the Look." This ML-based engine provides its users with real-time fashion recommendations observing their current outfits.
5. Shopper Measurement: Footfall Analysis, Pass-By Traffic, Interactions, and More
Sensor or camera-based customer analysis applications detect in-store traffic and patterns in the data. This includes the capture rate of pass-by traffic and segregates buyers' paths around the store. This way, retailers can see which promotions gain engagement and which turn buyers off.
AI-powered retail analysis solutions are not only built to observe buyer behavior. It also includes customer and associate interaction, thereby offering real-time visibility into in-store service engagement. Moreover, it can be used to push personalized marketing and messaging campaigns.
If installing additional sensors is not optimal, it's possible to process the video stream of any existing camera (CCTV, IP camera, etc.) with powerful deep learning algorithms that do not need a specific sensor. At viso.ai, we power Viso Suite, an end-to-end computer vision platform, to create and deploy such applications intuitively, without coding, and across industries. The video stream of any camera can be processed in real-time at the edge (on-device machine learning, Edge AI). We provide pre-built modules for footfall analysis, people counting, and much more.
6. In-Store Advertisement
Computer vision in retail is also used to improve geofencing, allowing shoppers to recognize particular customers when they enter the store and send them discounts. Moreover, they can also get recommendations on what items to purchase based on their previous purchase history.
7. Inventory Management
Other than self-checkout, shoppers also expect precise information about the availability of certain products as they browse an online store. According to a study, 64% of retailers are looking forward to deploying data-powered solutions such as computer vision to optimize and manage inventory over the next few years.
By automating inventory cycle counts with computer vision, retail businesses can update their inventory system in real-time to develop an omnichannel retail experience. Moreover, it was also reported that shoppers experience out-of-stocks every 1 in 3 shopping trips, costing almost $1 billion in annual sales.
8. Computer Vision AI-Based Loss Prevention
Computer vision technology essentially provides the computer with "eyes." Hence, there is a massive potential for its application in retail loss prevention. Computer vision uses ML-based algorithms to observe consumer behaviors, identify patterns, and make decisions based on these inputs. One of the most common applications of computer vision in loss prevention is to detect suspicious behavior related to fraud and theft.
This technology has already proven that it can lessen employee theft at counters by addressing common problems such as sweethearting. This is a technique where cashiers don't scan every product or ring them up at other prices. By recognizing every single product in the checkout area and relating it with a transaction, computer vision prevents such employees from attempting to steal products.
9. Crowd Analysis
Computer vision can correctly count retail shoppers and study customer behavior in total. For instance, merchants can track the customer journeys throughout the physical store, calculate the total time spent with each product, and guarantee that the store follows all standardized protocols.
10. Stocking and Planograms
Computer vision systems can analyze retail shelves to identify the effective placement of products and see if they are out of stock or out of order. For instance, Walmart is researching the use of "shelf-scanning robots" to explore a physical store's aisles, evaluate prices, and check for issues. This would save human employees a lot of time and effort, thereby focusing on things such as catering to customer needs to improve service quality.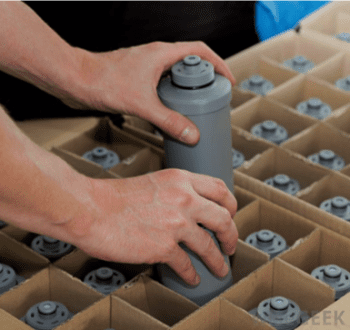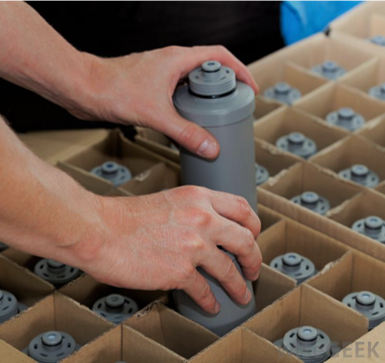 Trends and Advances in AI Technology
In the field of image recognition, the introduction of deep learning and the emergence of powerful AI hardware and GPUs enabled great breakthroughs. With deep learning, image classification and face recognition algorithms achieve above human-level performance and real-time object detection.
One of the most powerful real-time object detection algorithms, YOLOv7, achieves dramatically faster performance and accuracy compared to the best-performing models of previous years (e.g., YOLOv3, YOLOR, or Mask R-CNN).
Edge AI makes it possible to deploy machine learning models to edge devices located near the camera sensor. The ability to process visual data on-device AI makes it possible to ensure privacy, high speed, robustness, and scalability of AI systems.
Software for Computer Vision in Retail
At viso.ai, we power Viso Suite, an end-to-end computer vision platform for businesses to build and operate their Edge AI solutions. We offer no-code / low-code tools to quickly build computer vision applications in retail and other sectors with intuitive visual programming. We partner with Intel and NVIDIA and offer a scalable way to adopt the state-of-the-art hardware and update or maintain applications (cross-platform portability).
In a cloud workspace, applications can be created with pre-built modules to efficiently use the most powerful deep learning algorithms, such as YOLOR, YOLOv3, or the most powerful one, YOLOv7. The suite offers integrated tools to deploy your applications to computing devices connected to one or multiple cameras. On-device processing of visuals makes it possible to guarantee privacy to customers.
The integrated device management makes it possible to manage a large number of remote locations. You can monitor the metrics (for example, people counted or time spent in areas) in custom dashboards. It is intuitive and simple to learn, and we are happy to help you get started.
To learn more, check out Viso Suite for Retail or schedule a demo.
What's next?
Despite computer vision being the most mature AI technology today with a wide range of real-life use cases, it still is in an early phase and far beyond its full potential. It's worth noting that certain situations cannot be identified or tracked at all, mostly because of illumination, occlusion, or complex scenes. However, computer vision algorithms and the underlying technology are developing rapidly. AI technology will be important to gain a competitive advantage in delivering products and services better.
Computer vision and AI in retail are expected to bring great economic potential in various applications. If you are looking for a full technology overview, explore our guide about Visual AI in Retail.
To read more about the use of computer vision algorithms in different, related industries, check out our article about the Most Popular Computer Vision Applications.
Check out our other articles which you might find interesting: