Anyone who understands development and computer vision can use Viso Suite because it is much easier to learn than the underlying architecture, coding languages, machine learning frameworks, or image processing libraries.
As a result, Viso Suite can be used by a business analyst with little or no programming experience, an experienced computer vision engineer who wants to add another technology toolset, and anyone in-between.
How Is This Possible?
Viso Suite is the only end-to-end no code computer vision platform. The visual nature of development with Viso makes reading, understanding, and structuring computer vision applications simple. This includes computer vision, deep learning, cloud, edge, IoT communication, integrations, back-end and front-end development.
End-to-end: Viso Suite integrates and covers every single step required to build, deploy and operate computer vision. Viso even provides Image Annotation out-of-the-box. All tools, databases and cloud infrastructure are fully managed. You don't need other additional software or expensive cloud resources.
No-code / Low-code: For every step in the process, Viso Suite does not require writing any manual code (no-code). However, low-code options allow developers to add custom code and extend every aspect of the platform (low-code). This includes custom modules, code snippets, AI models, and more.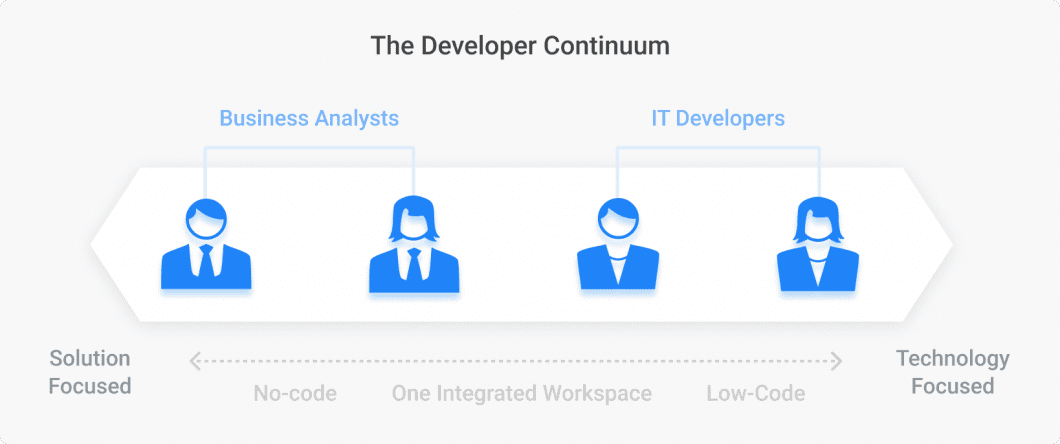 Who Will Catch On the Quickest?
Junior and experienced developers are typically going to be the ones who learn Viso Suite the fastest and will be the ones to use it first. They are familiar with software development principles and the technology involved. And they typically know how to best structure and architect solutions, how to identify reusable components, how to manipulate data, and more.
The use of customizable application templates helps them to get started rapidly, as all required modules of the application can be imported to the Viso workspace. This includes all assets, including deep learning models or demo videos to simulate camera input.
How To Build a Viso Suite Team?
To build a Viso Suite team within your organization, you have three options:
Train internal team: This approach capitalizes on people who already know your business and company culture. Identify who on your team has the skills to work on your Viso Suite projects and provide them with the right learning resources and training.
Recruit talent: If you don't have many in-house resources, you can hire your talent by preparing the optimal profiles, using the right interview techniques, and evaluating candidates for junior and senior roles.
Bringing in a partner: Many organizations rely on partners to help fill talent gaps. Viso Suite Partners are a great option for outsourcing projects. You have a choice of a wide variety of partner sizes, industry, and technical expertise, and locations to choose from. For more information, we invite you to contact the Viso Team.