Deliver Privacy-preserving AI Vision With Viso Suite
Data privacy and privacy-preserving computer vision are at the core of Viso Suite. The platform is built to leverage next-gen technologies for implementing fully private computer vision systems. The highly flexible application development environment provides full control over the application design and data. Viso lets teams design and develop every AI vision application to comply with strict privacy laws and regulations.
With Viso, teams can use Edge Computing and on-device machine learning to meet the challenges of private video analysis with deep learning – today and in the future.
What Are the Advantages of Edge AI for Computer Vision?
The Viso Platform lets you build and operate computer vision with edge computing, to run highly efficient and private on-device machine learning (Edge AI). The concept of Edge AI allows processing sensitive data locally, without the need to send all video streams into the cloud (data-offloading) for processing it there.
Due to the decentralized data processing near the data source, Edge AI allows overcoming the limitations of data privacy in image processing. Sensitive and confidential visual data of intellectual property (IP), personal identifiers (PID), or personally identifiable information (PII) is analyzed in real-time – without the need to store or transmit data.
The ability to build distributed computer vision systems allows to deliver AI vision anywhere and scale it without the concerns of latency, bottlenecks, robustness, and efficiency. Due to the instant processing, Edge AI-based applications generate significantly fewer data while achieving greatly higher data quality.
When you deliver computer vision with Viso, you can take advantage of the following benefits for private video analysis:
Real-time video analysis: Privacy through instant AI processing, significantly less and higher-quality data is generated.
Autonomous operation: No human operators are required. On-device machine learning applications can run permanently (always-on computer vision).
Protect sensitive visuals: Avoid sending video streams to the cloud, operate without storing or transmitting image or video data.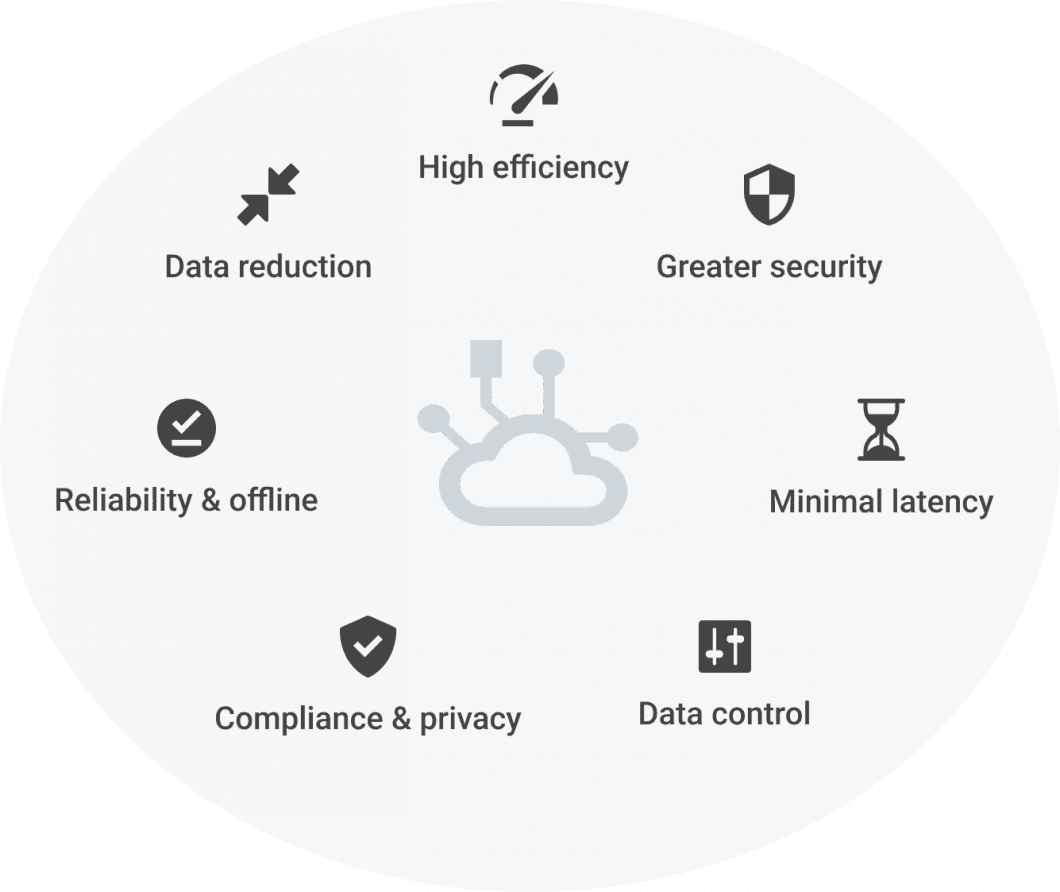 Privacy by Design for Computer Vision
Edge Computing enables connected edge devices to process input video data locally. All visual data provided by a camera is analyzed at the edge and only anonymous metadata is sent to the Cloud.
The metadata is based on how the application was developed with Viso Suite. Organizations can model every application individually to meet strict privacy and application-specific compliance requirements.


For example, in an AI vision application for industrial inspection in manufacturing, the video data often contains machines, processes, or employees. The camera is connected to an edge device (a small server) and video data is analyzed in real-time, without recording or any human ever seeing it. The images are converted into metadata that in this case would contain use-case-specific information as structured data in a standard text-based format (e.g. number of detected manufacturing parts with their condition).
Privacy-Preserving Image Processing
Using Viso, teams can build applications that send images or videos as output. For those use cases, it may be needed to obfuscate (pixelating, blurring, and masking) visual data to anonymize and protect sensitive information in images.
Viso provides deep-learning methods for image obfuscation in computer vision applications. This makes it possible to safely use visual data internally or externally. Key application capabilities for privacy-preserving video analysis:
Disable visual output
Run applications without any visual output, generate insights autonomously.

Anonymize faces
Automatic blurring of faces, for example of pedestrians or employees.

Anonymize license plates
Automatic blurring of vehicle license plates, for example in public places
Privacy and Governance – Industry Best Practices
Viso Suite provides an extensive set of deeply integrated capabilities to ensure privacy and governance across the entire lifecycle of computer vision.
Access Management
Manage and track each user's access to applications, data, and resources.
Full Control and agility
Design and develop every application private by design, control the data model. Manage and track versions and changes.
Stay agile and compliant
Rapidly update applications to comply with new and changing regulations. Operate multiple application versions to conform with different regulatory frameworks.
End-to-end systems
Build and run computer vision without data leaving the system, avoid transferring operational data.
Privacy guidelines
Configure workspaces and model custom user roles to implement your organization's privacy guidelines.
GDPR compliance
Build GDPR compliant computer vision applications with a minimal data footprint.