Viso Suite is the only end-to-end computer vision application platform to build, deploy, scale, and operate real-world AI vision applications.
The intention of Viso Suite is to simplify and accelerate the development and deployment of enterprise-grade computer vision applications. The no-code platform makes it fast and intuitive to develop an unlimited scope of applications to transform and automate physical processes. One platform allows delivering any AI vision application, including:
Real-time object detection, animal recognition, and people detection
Behavior analysis, footfall detection, person and object tracking
Scene recognition, event detection, anomaly detection, intrusion detection
Visual inspection, object quality analysis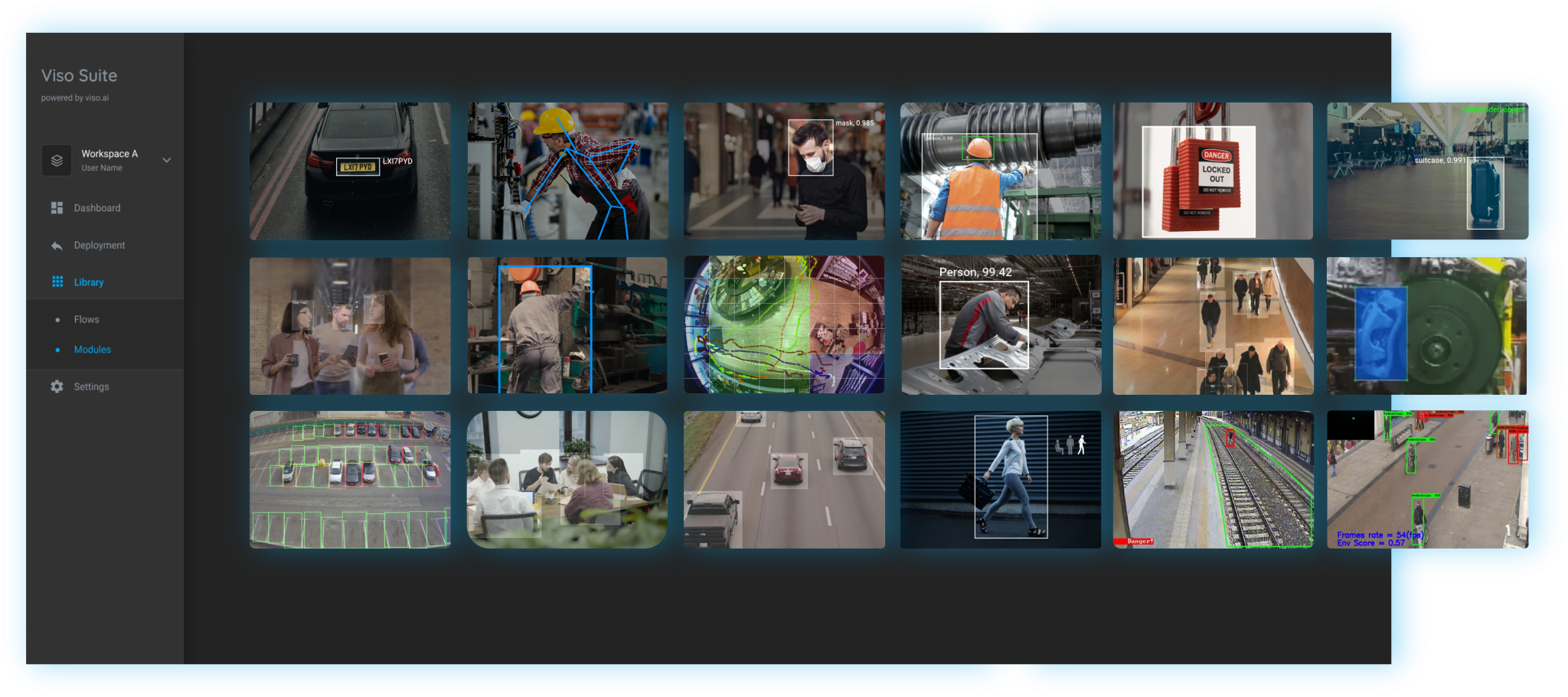 We've helped companies deliver computer vision since the early beginnings of deep learning technology. Our goal is to enable organizations to build and operate their applications on one platform. We partner with the largest technology companies (Intel, Nvidia, HP Enterprise, Samsung). During the years that we have been in business, we helped to build hundreds of AI vision applications, more than most companies in the industry. We are now confident that Viso Suite is the best platform solution to overcome the challenges of AI vision by enabling entire teams to build AI vision applications fast, efficiently, and future-proof.
Viso Suite gives you instant access to the latest no-code deep learning technology and fully managed, highly scalable infrastructure. Our customers have chosen Viso Suite to make sure they will never hit a wall moving forward and because it saves them a lot of time and costs.
You start by developing an application once and deploying it seamlessly across all platforms, confident that it's sound and robust. Automated infrastructure and health checks help to build and scale your application without running into unexpected issues. Integrating it with other systems or with external data storage is also a breeze.
If you need to change or update your computer vision application, you can do it quickly. Viso Suite checks and manages dependencies automatically. And whenever you deploy the application to endpoints, the Viso Solution Manager handles the deployment pipelines fully automatically – even if distributed devices are temporarily offline, or if you need to deploy large deep learning models.
How Is Viso Different?
Viso Suite is the fastest and easiest platform for building and continuously improving real-world computer vision applications to power AI-enabled innovation at scale. It is the only platform for computer vision development and delivery that provides a comprehensive, integrated set of tools for the entire app lifecycle – from concept and development through deployment and operation.
In addition, Viso Suite is unique in offering both no-code (visual modeling editor) and low-code (highly extensible software) tooling in one single platform. At Viso, the full application lifecycle can be managed without writing a single line of code.
The Viso development process is architected for the demands of enterprise-ready applications. These apps are maintainable, highly performant, and scalable, and they can cope with the complex nature of edge hardware and third-party system integration.
Through the platform's collaboration and visual development capabilities, Viso enables entire teams with different backgrounds and skills to be successful in building computer vision apps that deliver business value and automation in a sustainable way.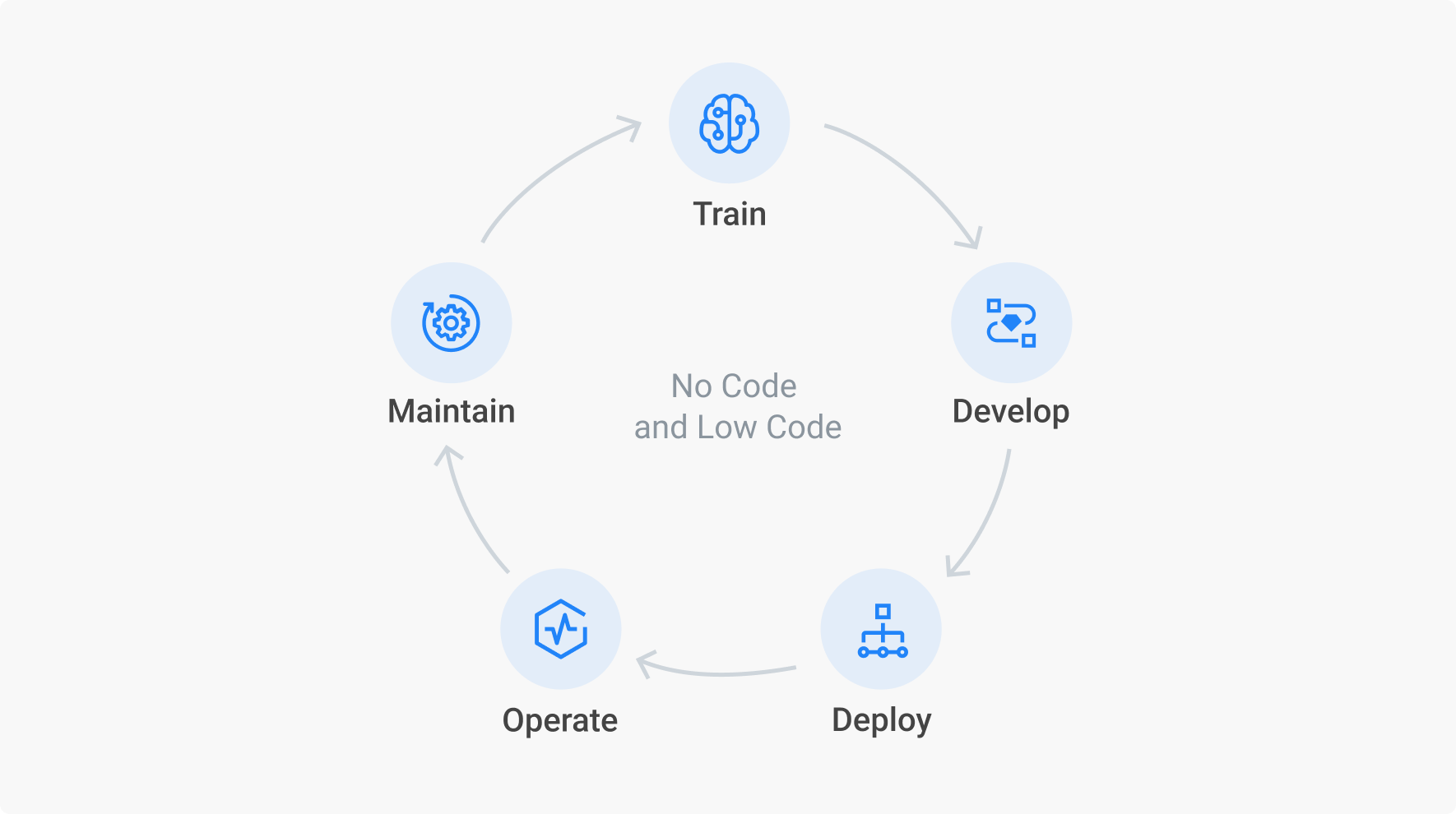 What is Viso's History of Delivering Innovation?
Innovation happens when people with ideas and next-gen technology come together. The culture of innovation had lived within Viso from the day when the company was started, resulting in a long list of industry-first innovations. Here is just a glimpse of the innovations our customers have been able to leverage:
First no-code platform for Computer Vision Development (2021)
Low-code and no-code collaboration via Viso Builder (2020)
Integrated application marketplace (2020)
Complete application templates (2020)
Computer Vision Application import/export (2019)
One-click Cloud to Edge Deployment (2019)
Application Cross-Hardware Portability (2018)
Full AI vision application lifecycle management (2018)
Multi-Camera Edge AI Support (2017)
Model-driven Computer Vision Development (2016)
We are committed to keeping the Viso Platform up to date with the latest technologies so our customers can deliver high-performance computer vision in record time.
How Does Viso Provide Both Low Code & No Code in a Single Platform?
Both no-code and low-code tools use visual and model-driven development concepts to speed up and transform development. At Viso, the full application lifecycle can be managed without writing a single line of code. Every single tool is no-code, not only the visual drag-and-drop editor. However, developers can extend and leverage those capabilities by adding their own custom code.
No-code tools enable users to build and operate computer vision applications without writing any code. For example, Viso Suite provides a visual development editor, AI model library, module and application manager, deployment console, device manager, monitoring dashboards, dynamic dashboard builder, health checks, and more – all tools that don't require writing code.
Low-code tools enable a wide range of developers with any level of software development experience. Viso Suite lets computer vision engineers and machine learning developers add their custom AI models and create custom modules for other teams to use. Developers can integrate their docker containers, create extensions, write custom business logic and dashboard queries. Developers can also send visual data to external databases or use collected metrics with third-party services.
The most value comes through enabling teams of developers from both business and IT with mixed experience levels and skills to collaborate on a single platform. Organizations looking to bridge the gap between business and technical teams need an integrated solution that appeals to both. Viso Suite provides automated and integrated tools that help focus on achieving the goal – deliver computer vision to solve real business problems with unprecedented speed and out-of-the-box control.
The Viso Platform provides intuitive and visual environments to deliver an integrated and model-driven development experience across the full lifecycle of computer vision applications.
How Does Viso Support Full Computer Vision Application Lifecycle Management?
Viso Suite supports the rapid delivery of computer vision applications through an integrated set of tools designed to cover the full application lifecycle. The cloud workspace provides everything in one unified solution without downloading and installing software and data.
Collect data securely
Train model, manage versions
Build an application with modules
Enroll devices and endpoints automatically
Deploy an application to devices
Monitor running applications, Dashboards
Iterate, update, and maintain applications
Teams can start with importing a pre-built application template or installing modules and AI models from the marketplace. Developers can then use the Viso Builder to rapidly build a custom computer vision application, continuously save new application versions, and deploy application versions to a fleet of enrolled devices at the push of one button.
New versions can be rolled out in batches to a large number of connected devices at once, even if devices may be temporarily offline or unavailable. Finally, the distributed computer vision application can run autonomously and send metrics to the cloud.