Welcome to the Viso Suite Computer Vision Platform Evaluation Guide. In this chapter, we will introduce you to the essentials of Viso Suite, including background information on why we founded the company viso.ai and our vision.
We recommend first watching the video overview of the Viso Platform.
Why Was Viso.ai Founded?
Viso.ai was founded based on the belief that computer vision could only be significantly improved if things were done dramatically differently, which meant integrating every step of the application lifecycle and simplifying the entire process.
We want to make AI vision broadly available to any business and give teams access to new technology to solve real business problems radically better, using computers that can see.
What Is the Vision Behind Viso?
AI technology will disrupt entire industries worldwide. Our vision is to empower businesses and teams to collaborate successfully and create and operate better AI vision applications dramatically faster and at significantly lower costs. The model-driven application development of Viso accelerates the entire application lifecycle of computer vision, and creates a common language to bridge the gap between business and IT teams.
The Viso Suite platform enables teams to use revolutionary no-code technology to develop, test, deploy and operate their real-world AI vision systems in one place. We believe this is absolutely necessary for businesses to compete and survive as we enter the era of AI.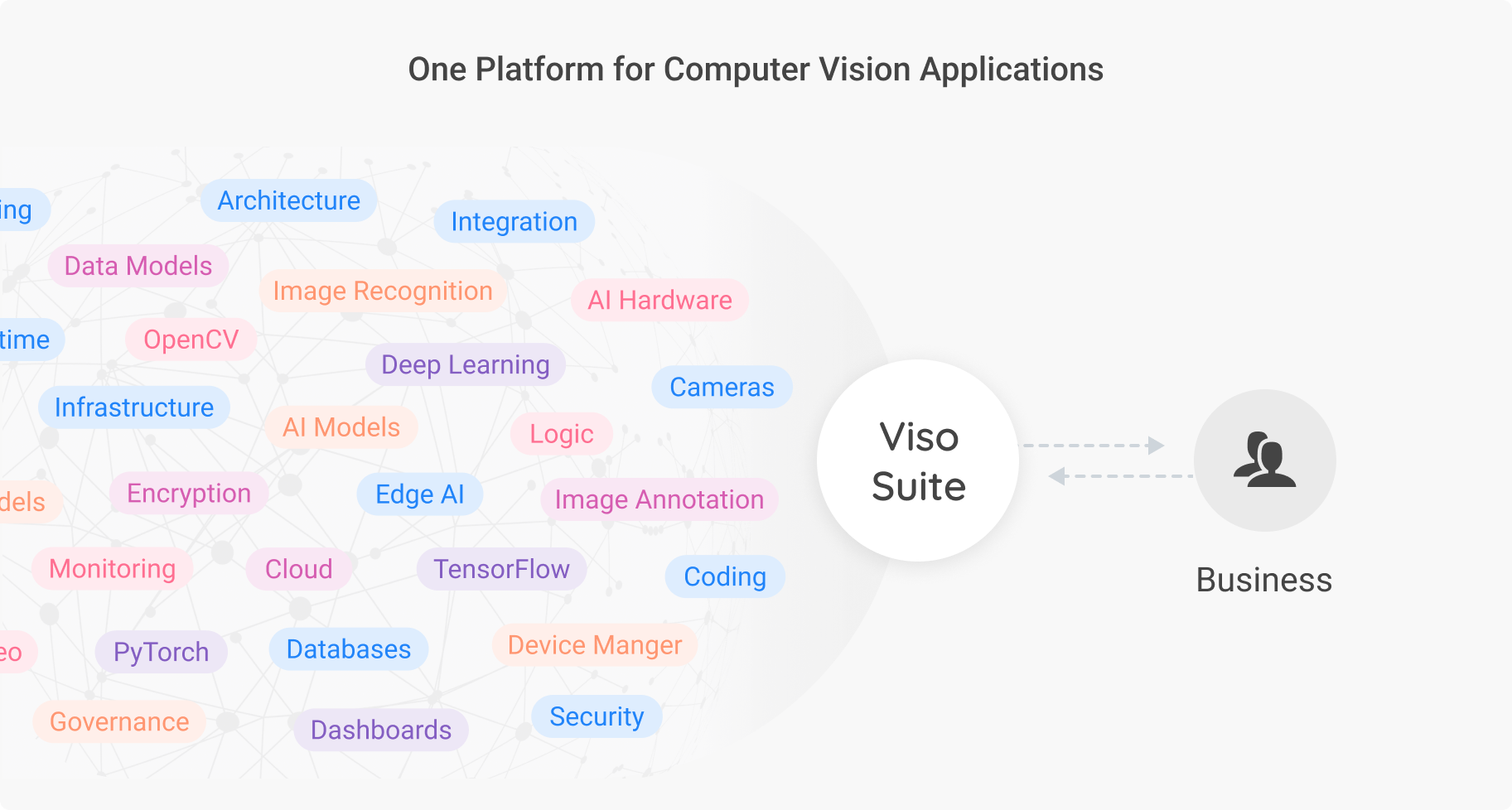 What is Viso Suite?
The Viso Platform is designed to accelerate the development of enterprise computer vision applications across the entire application lifecycle, from ideation to development, deployment, and the ongoing management of your application portfolio in the cloud and at the edge.
The Viso architecture abstracts application and machine learning code from the underlying platform services. Viso offers both no code (visual programming) and low code (highly extensible, integrated tooling).
Business-domain experts such as analysts and innovation managers can work alongside expert developers to achieve much better business agility, change management, and dramatically accelerated time-to-release. The Viso platform's cloud-native architecture facilitates the development, deployment, and monitoring of secure and enterprise-grade computer vision applications – everything in one unified workspace.