The Viso Suite all-in-one, no-code application development platform accelerates every step of the enterprise computer vision development lifecycle. Automate manual work, reduce development costs, solve scalability, privacy and security end-to-end.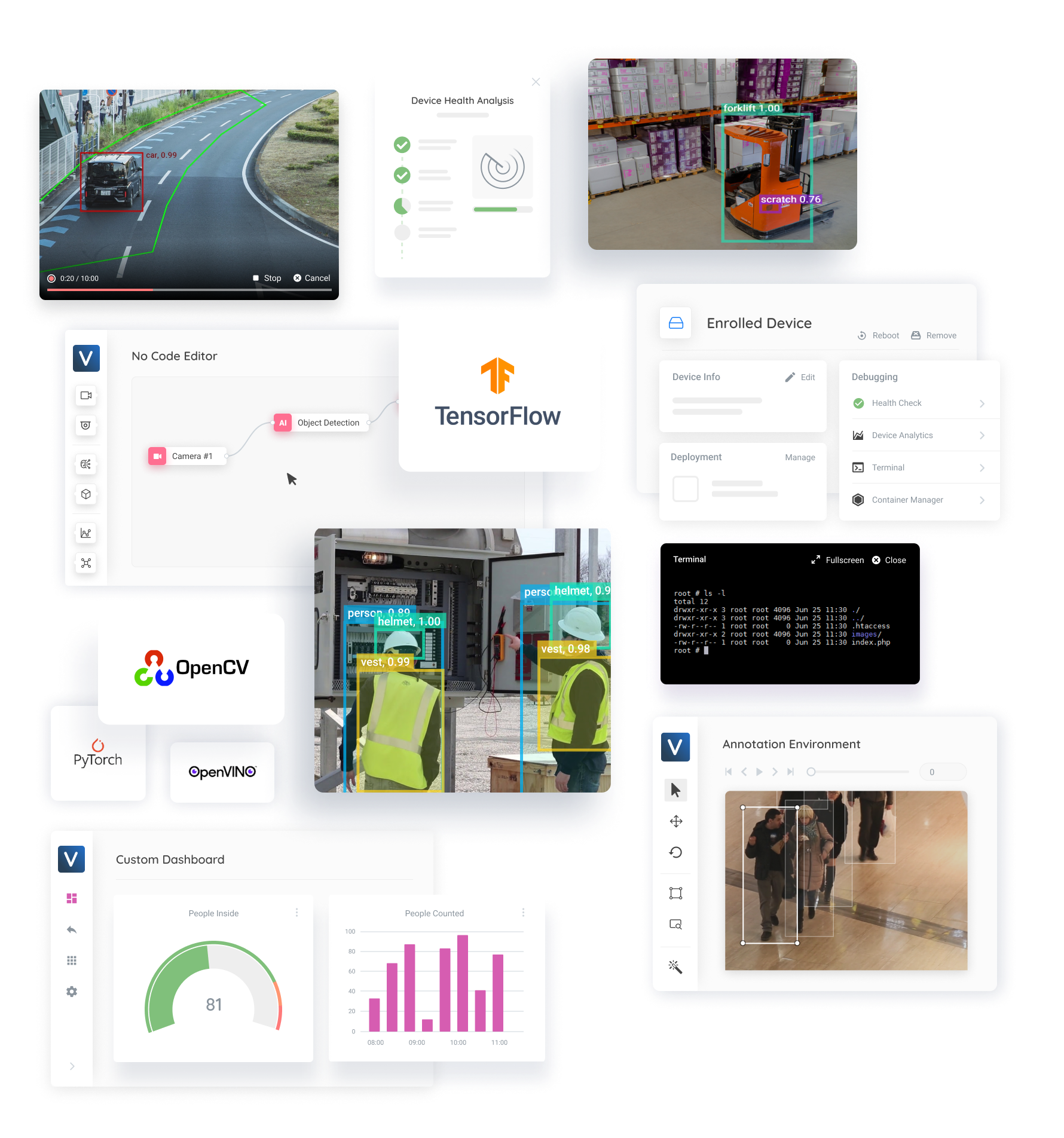 Solve real-world problems with computer vision
Viso Suite lets you create and scale real-time computer vision and deep learning applications. Use the next-gen AI tools and frameworks that Facebook, Google, Tesla and Uber use.
Collect data for computer vision annotation
Viso Suite provides built-in, automated collection capabilities to gather training data. Automate, secure and control the entire data collection process, use multiple cameras enrolled in Viso Suite.
Record and store video data from one or multiple cameras with integrated capturing.
Create new or import video data to the video data library. Manage all data in one place.
Continuously gather data to improve AI models using automated, distributed data collection.
Annotate image and video data
Bring teams together to create high-quality datasets using a complete palette of labeling tools. Your data never leaves your workspace, keep everything safe and stay in full control.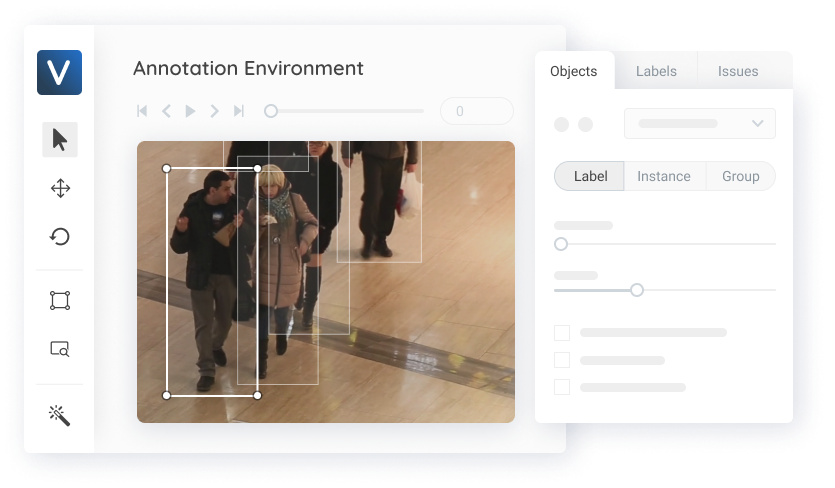 Comprehensive data labeling capabilities, including semi-automatic annotation.
Create and manage datasets for computer vision model training, directly in the workspace.
A team of data annotators can safely annotate videos, guest access for external annotators.
Train and manage AI models
Manage your AI models across all frameworks in the model library. Choose from pre-trained models, import or train your own custom AI models. Use built-in version control as you constantly improve your AI models.
Use one or multiple integrated environments to train custom computer vision algorithms.
Manage all AI models across any ML framework, with built-in version control.
Choose from an extensive library of integrated deep learning models, or import your own.
Develop computer vision without writing code
Create and update computer vision applications intuitively, using building blocks in a visual editor. Build out logic, wire together multiple cameras and computer vision capabilities. Extend everything, and integrate your systems.
The visual editor makes it much faster and easier to create and maintain applications.
Use building blocks to integrate any camera, AI model, processing hardware and your systems.
Manage a portfolio of applications, keep updating them with built-in version control.
Deploy computer vision applications at scale
The integrated device management provides automated and secure enrollment. Manage a fleet of devices with different environments and deploy applications rapidly. Now you can ensure your applications scale.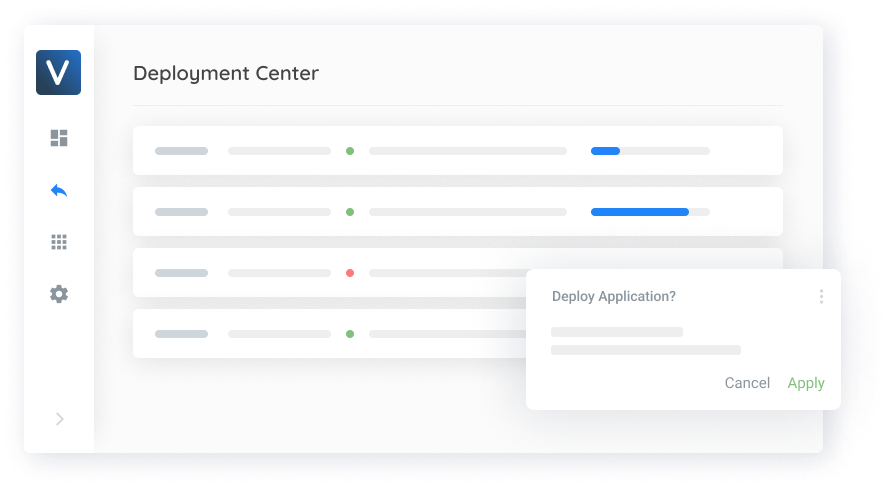 Easily enroll and manage physical and virtual edge computer – safely and fully automated.
The automated collector agent provides IoT scale communication and offline capabilities.
Deploy applications using profiles, manage different releases and deploy with one click.
Connect deployed applications and devices
The built-in Edge Gateway connects the fleet of devices and secures all connectivity to the workspace. Local on-device deep learning enables fast, cost-efficient, and privacy-preserving AI vision.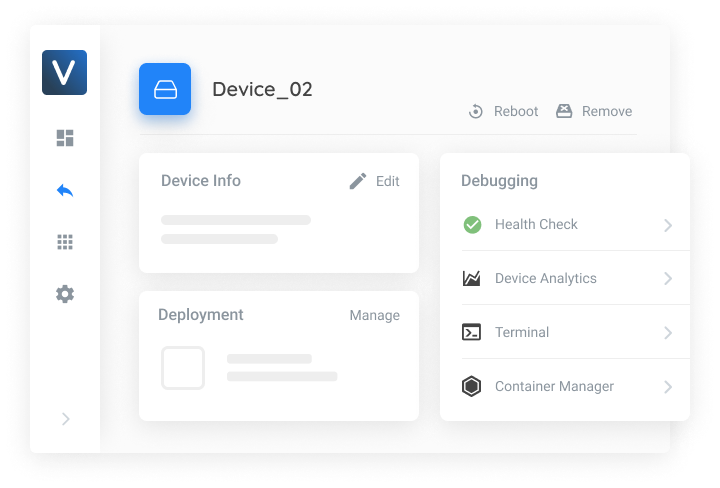 Integrated Edge Gateway manages and secures all Edge-Cloud connectivity a metrics.
Efficiently configure applications and manage individual configurations in the cloud.
Private Edge AI Processing
On-device machine learning analyzes all video data directly, without sending or storing video.
Monitor events and metrics in the Cloud
Use comprehensive BI analytics tools data analysis. Create custom dashboards and interactive drill-down reports with ready-made charts. Write data queries and connect your own BI tools.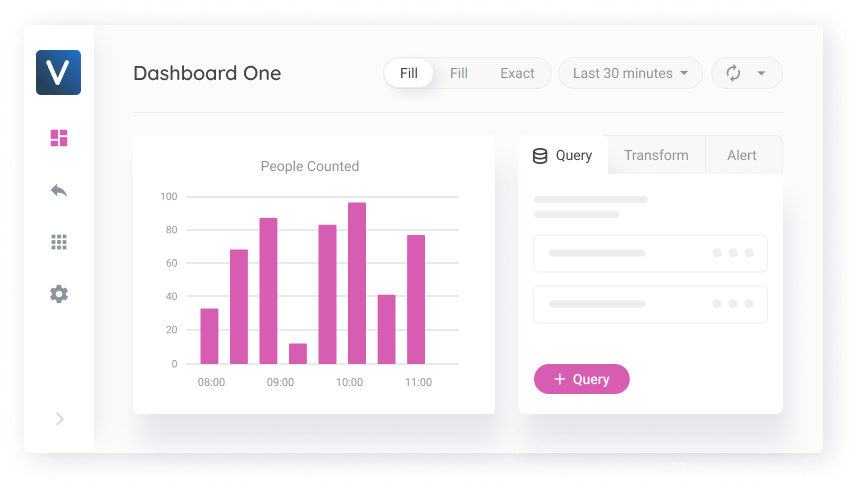 Visualize real-time and historical data and metrics from your applications.
Dashboard editor to create custom BI dashboards with +40 ready-made charts.
Aggregate data across all devices, use drill-down filters, explore data to identify events.
Maintain all applications and ensure continuous delivery
Implement a responsive and fast computer vision update and upkeep strategy. Detect issues effectively and early. Resolve problems efficiently with built-in debugging tools.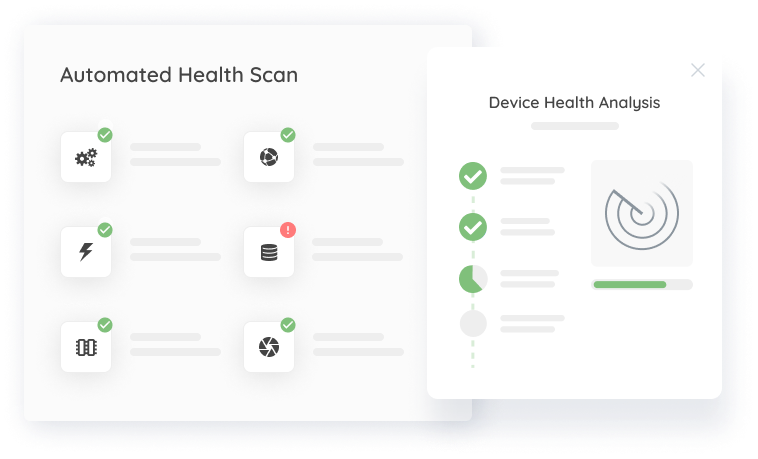 Manage application versions and remotely roll out releases to different environments.
Identify issues early with powerful diagnosis tools, system alerts, and auto health checks.
Effective troubleshooting
Resolve issues with remote troubleshooting tools, fast rollbacks, and disaster recovery.
Secure and protect all data and applications
Integrate enterprise-grade security capabilities throughout the entire computer vision lifecycle. Deliver secure applications and run on secure infrastructure, and enforce data encryption.
Manage users and track activity, use security policies to manage sessions and passwords.
Enterprise role-based access management (RBAC), permissions, and custom user roles. 
Protect computer vision systems with multi-layered authentication and authorization.
Build secure applications
Viso Suite provides automated dependency analysis and vulnerability scans.
Fully lock down edge devices. The Edge Defender provides whitelisting and auto wiping.
Use high-security algorithms to protect all data at rest and in transit – throughout the lifecycle.