In today's changing energy landscape, business leaders recognize that innovation, new technology, and automation are fundamental to staying competitive. The electric power industry is continuing to move towards a cleaner, more reliable, and resilient grid. Computer Vision is one of the most mature AI technologies with a highly disruptive impact on the power and utilities industry.
This article explores how the next-generation AI vision technology can help pave the way to increase operational efficiency, safety, and reliability in the electric power industry. The most popular applications include AI vision inspection and monitoring, surveillance and security, foreign object detection, abnormal situation detection, and intelligent control of field personnel and operation behavior.
The article covers the following topics:
Key Industry Trends and digitization in
State-of-the-art computer vision technology trends
List of 20 top AI vision applications in the energy and utilities industry
How organizations can get started with AI vision
About: We provide the leading no code computer vision platform Viso Suite. The solution helps energy and utilities organizations worldwide to build, deploy, scale, and secure their computer vision applications in one place.
Energy and Utilities Industry Trends
In 2022, the industry faces tough challenges, such as overcoming extreme weather events, boosting clean energy, ensuring reliability and resiliency of the grid, and maintaining security while lowering operational costs. Global market forces are impacting the landscape of utilities worldwide; new entrants and disruptive technologies require a transformation of industry business models.
To remain competitive, organizations in the electric power industry will need to continue to advance their 3D transformation: decarbonization, digitalization, and decentralization. The deployment of disruptive technologies such as AI, Edge, 5G, and Cloud technologies to harness flexible load and support building electrification will likely impact the industry as key strategies. Therefore, organizations will need to be able to leverage intelligent AI technologies to handle the increasing pressure on operational efficiency and workforce productivity.
AI Vision Technology for Power Utilities
The competitive environment of the power market puts higher demands on ensuring the safe and reliable economic operation of electrical equipment. Traditional manual inspection of equipment has been difficult and expensive to perform in large-scale electric power enterprises. Computer Vision enables machines to see using cameras to complete inspection tasks autonomously.
Disruptive Benefits of Computer Vision
Computer Vision leverages advanced computing and image recognition technologies. The images acquired from cameras are analyzed with image processing and machine learning methods such as deep neural networks. Modern architectures combine AI vision and Edge Computing with the Internet of Things (IoT) to move AI computing from the cloud to the network edge. The implementation of connected edge devices for on-device machine learning makes it possible to implement robust, large-scale AI vision systems.
Other than most sensor technologies, image recognition systems are easy to implement because of the small footprint with minimal impact on existing infrastructure; security cameras can be reused. Therefore, such AI vision systems are also easy to maintain. AI vision systems are very cost-efficient and can cover large areas efficiently, even in remote and distributed areas. This makes computer vision technology suitable for large-scale solutions in the power utilities industry.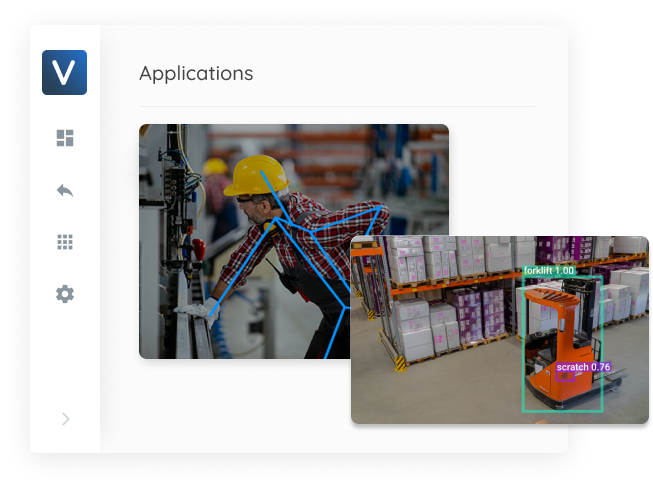 The Platform for Computer Vision Applications
Viso Suite is the end-to-end computer vision platform for organizations to rapidly build, deploy, and operate AI vision with no-code and low-code capabilities. The platform enables companies to develop and scale their own AI vision applications. Almost any camera and deep learning model can be used to build custom applications for maximum impact. Viso provides a unified enterprise solution to implement all AI vision applications needed today and in the time to come.
Industrial Utility Equipments With Deep Learning
Substation Equipment Monitoring and Fault Diagnosis
AI vision technology is applied to recognize and monitor the status of substation equipment: transformers, circuit breakers, capacitors, lightning arresters, combined electrical appliances, etc. The automated early detection of equipment failure, hidden dangers, and anomalies helps to reduce the operation and maintenance costs. It further helps to support maintenance work and improve the power supply service quality. Compared to human inspection, computer vision is highly accurate, consistent, objective, and fully automated.
Analog Controls Recognition
AI vision is used to recognize and digitize analog controls for signal lights detection, pointer position in analog dials, switch position detection, or liquid surface position of transformer oil. This allows automated substation meter reading without the need of human operators and is needed for predictive monitoring to detect abnormity for forewarning of equipment fault.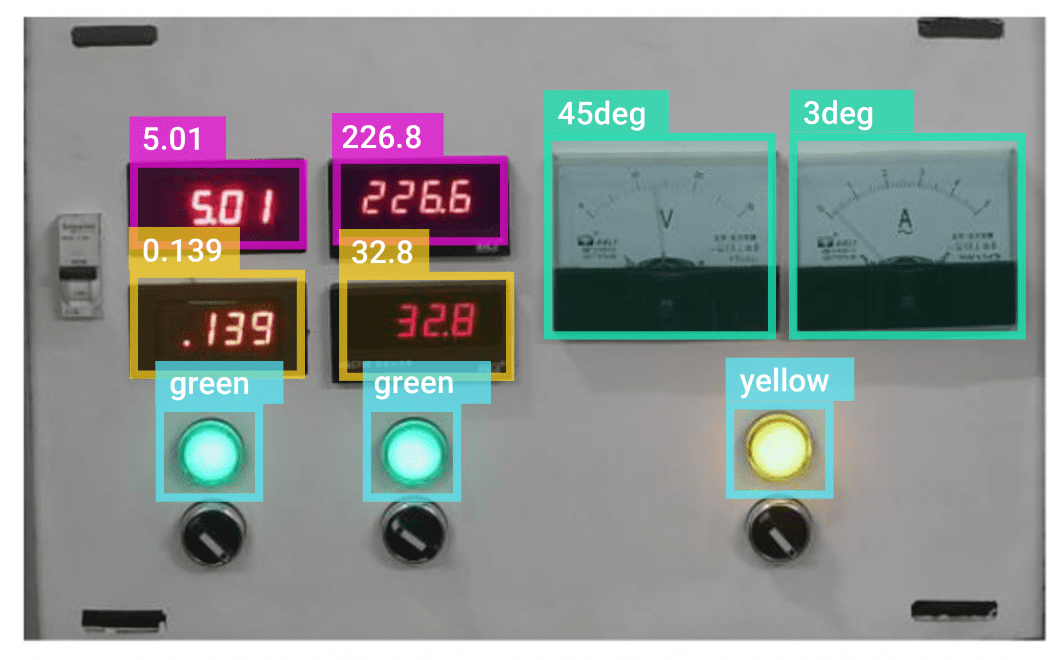 Power Substation AI Inspection Automation
The increasing automation level of substations and the rapidly growing number of unattended substations require highly efficient substation tour inspections. Artificial intelligence enables computers to conduct AI vision inspection automatically to allocate costly resources faster and more efficiently.
Foreign Object Detection
A computer vision application can conduct the automated detection of foreign objects that can cause failures of power supplies. General inspection of the substation with AI vision can be carried out to constantly detect and check the cleanliness and work quality of maintenance work.
Personal Protective Equipment Inspection
Power and utilities industry companies increasingly deploy deep learning models for protective equipment detection in real-time. In dangerous working environments, it is extremely important to reinforce workplace safety management by automating the inspection of protective equipment wearing such as helmets, workwear uniforms, and vests. Artificial intelligence analyzes the video feed of cameras to automatically monitor and report misconduct that violates safety measures.
The automated AI vision inspection replaces manual supervision and leads to significant time and cost savings while improving a consistent, accurate, and rapid detection of personal protective equipment (PPE).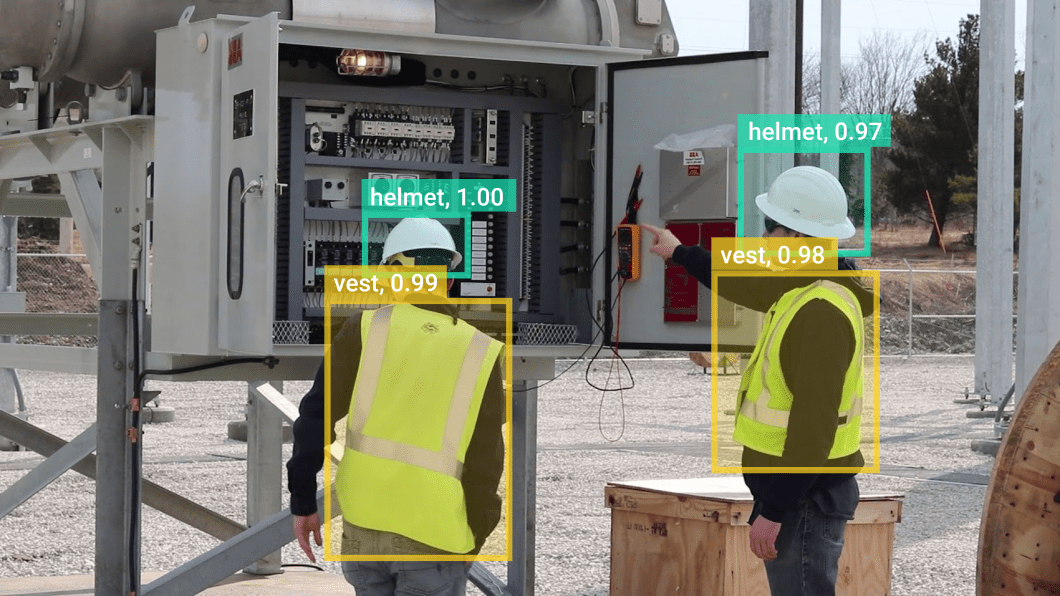 Automated Safety Violation Reporting
AI vision models can be trained to detect specific events that cause failures or increase the risk of accidents, including the intelligent monitoring and reporting of misconduct that violates safety protocols. Automated AI vision monitoring reduces costs for manual inspection by trained operators and prevents human error.
Camera-based Fire and Smoke Detection
Machine learning can analyze the video of conventional and inexpensive security cameras to implement fire and smoke recognition in remote plants and substations. The automatic fire detection can be combined with the monitoring of alarm indicators on the fire panels.
Automated Intrusion Detection
Automated intrusion detection with AI uses virtual electronic fences to prevent workers from entering dangerous or no-working areas. This computer vision application for intruder detection can also be used for theft prevention in remote and large-scale areas.
AI Vision Person and Position Detection
Person detection for camera visual positioning technology can be used to obtain the real-time position of the personnel in the substation. The position of each detected person can be used to detect illegal or dangerous activities. This includes situations of intrusion, fence-crossing, and mistakenly entering areas.
Utility Infrastructure Monitoring and State Recognition
Computer vision for utility infrastructure monitoring includes a wide range of use cases to recognize the state of pipes, cables, sewers, wires, plants, and equipment needed to provide utility services.
Disconnect Switches State Recognition
Knowing the state of the disconnect switches in a power distribution substation is essential. Incorrect operation may lead to problems such as accidents, outages, damaged equipment. Although human errors when reporting switch positions are rare, they can have an enormous impact when they occur.
Therefore, vision systems can be used to automatically monitor disconnect switches in unmanned substations. Such non-intrusive computer vision applications can use regular surveillance cameras, which can also be used for other purposes, leading to lower cost and simpler installation and maintenance compared to individual per-switch sensors.

AI Vision Inspection of Power Lines
Power line inspection is essential to the continuous and reliable operation of the power grid. In the past, power line inspection was mainly carried out manually, which means the liners were inspecting the power line in the field or watching videos taken by UAVs (drones) or robots. However, the manual inspection is inefficient, repetitive, and leads to disadvantages such as long time consumption and high manual labor cost.
Computer vision applications can automate AI vision inspection tasks in the power and utilities industry effectively. A popular example is broken spacer detection, which uses machine learning to recognize the spacer in the region of interest and use image classification to detect the broken spacer fault automatically. The higher inspection performance helps to prevent outages and damaged infrastructure.
Remote AI Vision Monitoring of Power Substations
Engineers in charge of the transmission network need to know the real-time status of power equipment and infrastructure. Distributed computer vision systems can monitor the real-time status of power equipment, security, and fire safety of multiple remote substations. The gathered information from power plan monitoring systems provides real-time KPI monitoring and insights to support better and faster decision-making. In addition, intelligent vision systems can initiate alarms to avoid further development of unattended fault within the power generating system.
Conventionally, this work requires a panel meter/human interface arrangement with intensive manhour requirements and limited flexibility. Computer Vision technology can replace the human interface so that the time-intensive work, including data logging, trend recording, and alarm triggering, can be carried out by connected computers. Using image recognition technology, human error can be minimized while increasing monitoring accuracy and operation efficiency.
What's Next?
The trend of Edge AI is rapidly gaining momentum in the field of AI vision technology. While AI hardware is rapidly advancing through the introduction of powerful neural network accelerators, iGPU, and AI co-processors, more commercial computer vision solutions are becoming feasible.
Image annotation with small training datasets for industrial AI vision and light machine learning models dramatically increases the efficiency and economic value of computer vision. Modern systems use cameras for both collecting training data and running applications (computer vision inference), enabling high performance at a fraction of traditional training costs.
Explore more popular articles:
How To Get Started?
At viso.ai, we provide next-gen Software Infrastructure used by leading innovators, Fortune 500, and governmental organizations to rapidly develop and operate distributed AI vision systems. Our platform Viso Suite includes the most comprehensive set of capabilities to cover the entire AI vision application lifecycle and run any AI model with almost any camera and computing device.
Get in touch with the Viso team to get a personal demo, case studies, and about us.